Invitation to the 25th Conference, 2022
---
25th ETH-Conference on Combustion Generated Nanoparticles
June 21-23, 2022, online

Focus Event: New Legislation to Guide the World

Conference Website: https://npc22.scg.ch

The ETH-Conference on Combustion Generated Nanoparticles (#ETHNPC2022) is in 2022 again organized as an online conference under the auspice of the Swiss Chemical Society. It serves as an interdisciplinary platform for expert discussions on all aspects of nanoparticles, freshly emitted from various sources, aged in ambient air, technical mitigation aspects, impact of particles on health, environment and climate and particle legislation. The conference brings together representatives from research, industry and legislation.

Conference Topics
Aircraft, marine and other non-road sources
Ambient air particles, secondary pollutants
Biomass-, biofuel- and synfuel combustion
Brake- and tyre-wear, non-combustion emissions
Emission control of combustion engines
Emission upgrade and PTI for in-use vehicles
Environmental and health effects
Exhaust aftertreatment systems
Future legislation and enforcement
Impact on climate
Nanoparticle formation and transformation
Nanoparticle metrology and chemical characterization
Nanoparticle chemistry and toxicology
Occupational exposure and prevention

Focus Event: New Legislation to Guide the World
The World Health Organization air quality guidelines, European vehicle and engine legislation, national clean air acts, and periodic technical inspection (PTI) legislation have become key elements of international and national clean air policy. With no doubt, the implementation of catalytic converter technologies and better fuels, compatible with such technologies, were major steps to reduce emissions of combustion engines.
The 2022 focus event will discuss the next legislative steps to take and the challenges to tackle with new fuels and new engine and vehicle technologies, to further reduce the impact of air pollution on health and global warming.

Health Session
The health session will focus on the effects of aircraft-/airport and wood smoke/wildfire related emissions.

e-Papers and e-Posters
We invite you to submit abstracts for oral and video poster presentations on the conference registration page.
Abstracts must contain new information and results related to the aforementioned topics.
Best e-poster presentations will be awarded with prize money and certificates.
Presenters at the conference will be invited to submit full length papers for publication after peer-review, in the journal "Emission Control Science and Technology"
All contributions (including pdf and mp4 video files of talks, posters and abstracts) will be published on the conference website.
Submission of an abstract includes your agreement for publication on the conference website.

Scientific and Organizing Committee
See contacts page.

e-Exhibition
The virtual exhibition on particle measurement instrumentation (PMI) and emission control devices (ECDs) is an important part of the conference.
For further information and registration contact:
Prof. Dr. H. Burtscher (PMI), heinz.burtscher@fhnw.ch
Dr. A. Mayer, TTM (ECDs), ttm.a.mayer@bluewin.ch

Important Dates and Deadlines
February 25, 2022: Registration opening
April 22, 2022: Deadline for abstract submissions for oral and e-poster presentations
April 22, 2022: Deadline for e-Exhibition application
May 20, 2022: Information on paper/poster acceptance
June 16, 2022: Deadline for e-Poster video uploads

Registration and Conference Fee
Online registration is required on the conference registration page, where abstract and exhibitor application forms are available.
No participation fee will be charged. This is possible only thanks to the generous financial support of our sponsors.


Further Information
Dr. Norbert Heeb (Empa), norbert.heeb@empa.ch,

Organized by
NPC-association, a registered non-profit organization

Under the Auspices of
FOEN (Federal Office for the Environment), SCS (Swiss Chemical Society) and ETH
Important Links and Deadlines:
Abstract submission for oral and poster presentations: April 22, 2022
e-Exhibition application: April 22, 2022
Information on paper/poster acceptance by May 20, 2022
Video upload for virtual posters:

June 16, 2022

Sponsorship Opportunities, please support the conference and become a sponsor!
Sponsors and Supporters 2021 - Thank you!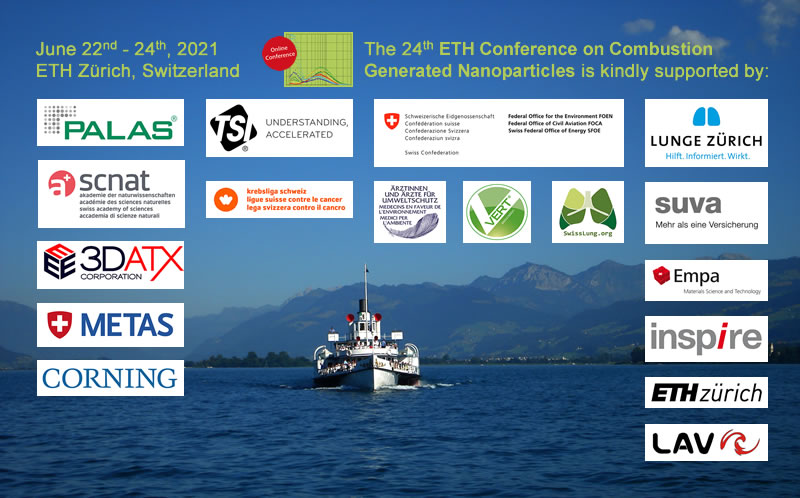 Follow us on Twitter:
@ETHNPC, official hashtag: #ETHNPC2022
Conference-Flyer 2022 (pdf)