Best Poster and Trojan Horse Awards 2018
---
22nd ETH-Conference on Combustion Generated Nanoparticles
June 18th - 21st, 2018 at ETH Zurich, Switzerland

Every year the most accomplished poster presentations at the ETH Conference on Combustion Generated Nanoparticles are rewarded with a Best Poster Award. The poster committee evaluates all posters on their design, clarity of the presentation - both of the poster and also when talking to the presenter - and their scientific content.
Best Poster Award Committee
Oliver F. Bischof, TSI (Chairman)
Prof. Dr. Heinz Burtscher, FHNW/IAST
Prof. em. Dr. Peter Gehr, University of Bern
Dr. Adrian Hess, PSI
Thomas W. Lutz, ETH/LAV
Dr. h.c. Andreas Mayer, TTM
Prof. Barbara Rothen-Rutishauser, AMI, University of Fribourg
Dr. Norbert Heeb, EMPA
In 2018 the three best poster presentations were once again recognized by award certificates and prize money. The best-rated poster received SFr 600 (approx. $610 US), the second SFr 400 (approx. $405) and the third SFr 200 (approx. $200).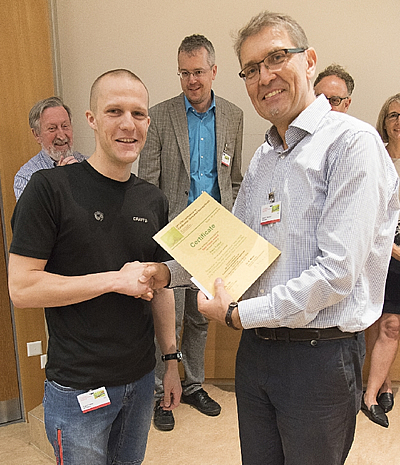 On Thursday, June 22nd, the three winners of the Best Poster Awards of the 22nd ETH Nanoparticle Conference were announced during a ceremony in front of the entire audience.
The winners were: