Save your Seat! Important Links and Deadlines:
Thanks to the financial support from sponsors and exhibitors, no participation fee will be charged.
Note: The deadline for submitting a poster or oral presentation has been extended to April 20, 2021. Submit your abstract after the registration process.


Dear colleagues
Corona viruses are more persistent in our societies than thought and our hopes to organize the 24th ETH-Conference on Combustion Generated Nanoparticles this year in its well-approved format are not fulfilled.
Therefore, we have decided to offer you the opportunity to participate in a first online CGN Conference and login from all over the world. With this, we open the call and you can submit your abstracts on the conference registration page. With the Swiss Chemical Society, we could find a competent partner and together we will build virtual conference rooms for oral and poster presentations and an exhibition on latest particle measurement instrumentation and emission control devices.
The conference will be held online from June 22, to June 24, 2021.
The conference addresses the same topics and is organized in about 8 sessions, offering time for short online presentations. The online conference is also an excellent occasion to present your results in form of e-posters and videos, which will be accessible during the entire conference for registered participants.
All contributions will also be implemented in the conference archive, as well as in the conference bibliography, which by now is an impressive testimony of the conference history and the many scientific results and achievements, which have presented at the conference on all aspects of combustion-generated nanoparticles.
With this information, hopefully, we could encourage you to participate at the 24th ETH Conference on combustion-generated nanoparticles.
Stay healthy, avoid inhalation of COVID viruses, which indeed are toxic nanoparticles, use approved filter technologies and share your findings on combustion-generated nanoparticles with all of us at the next conference.
With best regards
On behalf of the organizational committee
Dr. Norbert Heeb and Dr. Andreas Mayer
About the Nanoparticles Conference
The ETH Conference on Combustion-Generated Nanoparticles serves as an interdisciplinary platform for expert discussions on all aspects of nanoparticles, freshly emitted from various sources, aged in ambient air, technical mitigation aspects, impact of particles on health, environment and climate and particle legislation. The conference brings together representatives from research, industry and legislation.
Video about the ETH-NPC conference, its history, the reasons why it has been established, the aims and some footage from the conference in 2012:
Follow us on Twitter! @ETHNPC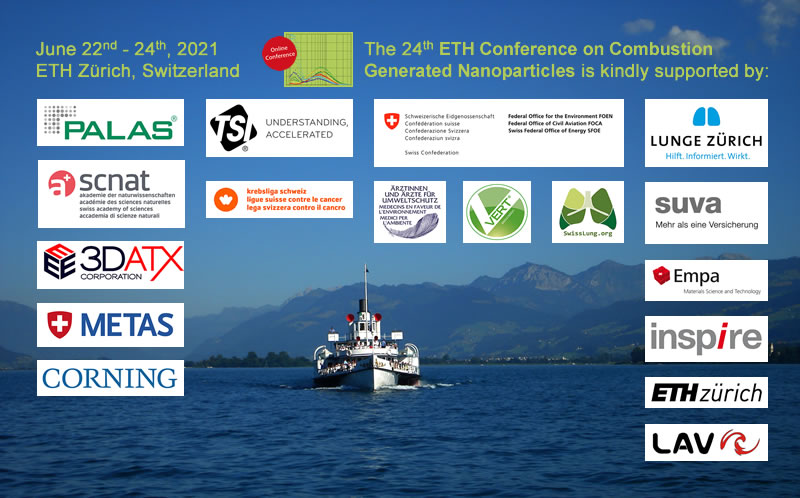 Sponsors and Supporters 2021 - Thank you!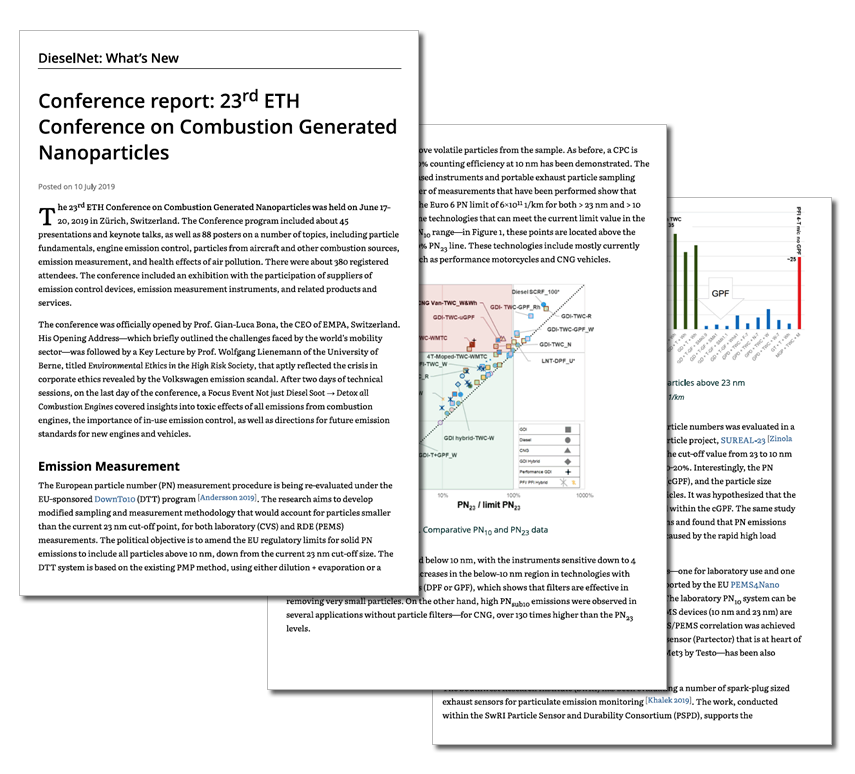 DieselNet, July 2019
Conference report (pdf)
Video: Two-Year International Project VERT-NPTI. New instruments for the periodic exhaust gas control at low idle speed. A report from the 10th VERT Forum, 2019
---